Invest in our aeration and overseeding services for the Bloomington-Normal, IL areas to have your grass grow lush and green.
At J.T. & Sons Lawn Care, we work hard to provide customers with lawns that are the healthiest in the region. We provide our extensive lawn care services in the areas of Bloomington, Normal, and Lake Bloomington.
One of the best things you can invest in to ensure your grass reaches its full potential each year is to take advantage of our aeration and overseeding services. We provide our services in the fall, before leaves are littering the ground. The aeration and overseeding services that we offer can vastly improve the state of your lawn by helping it to grow more lush and green.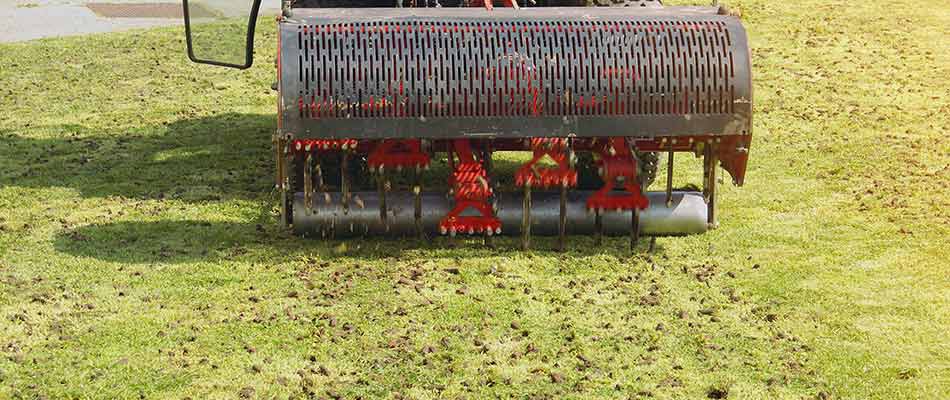 Core Aeration
Core aeration is a process where a machine called a lawn aerator utilizes small, hollow appendages to remove plugs (cores) of soil and thatch from the lawn. The resulting small holes allow oxygen, hydration, and nutrients to seep deeper into the soil and root system.
Aerating your lawn grows a thicker lawn that promotes healthy roots and deters weeds, lawn diseases, and pests.
Neglecting to have your turf aerated can cause dead grass and debris to form a layer of thatch that hinders moisture and oxygen from reaching the roots. Thatch can be a promoter of disease and pests for your lawn. Aerating your lawn annually will avoid thatch buildup and keep your lawn thriving!
For the best results, we perform aeration during damp conditions.
Overseeding
In conjunction with aeration services, we offer overseeding. Overseeding brings new grass growth to your turf. We use premium blends of seed that is devoid of weeds and has a high germination rate.
Overseeding helps:
Repair lawns damaged by heat, sun, and drought.
Keep weeds from creeping into your lawn by crowding them out.
Add new grass to your lawn, which helps it grow thicker in the following year.
It is best to do overseeding after aerating your lawn in the fall, which is the reason why we offer these services together.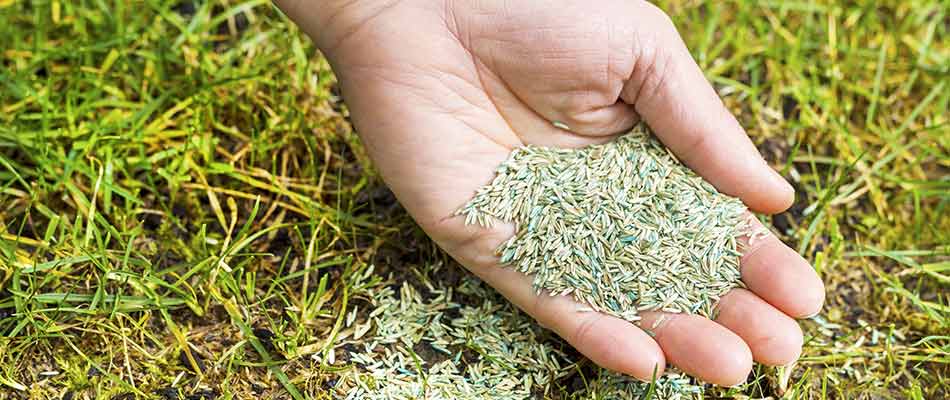 Schedule Our Aeration & Overseeding Services
See the difference that our aeration and overseeding service will make to your turfgrass. Schedule an estimate for your property with us today by calling (309) 585-3571! We service communities and businesses in Bloomington, Normal, and Lake Bloomington each fall.