Commercial mowing and property maintenance service in the Bloomington-Normal, IL area.
Commercial mowing is not just "mowing the lawn" there are many factors that we consider when mowing the lawn at your business. One thing we take into account is, what type of grass will our team be mowing? Grass-types most commonly found in the Bloomington-Normal, IL area include Perennial Ryegrass and Fine Fescue in blends of Bluegrass. These cool-season grasses have growing seasons during the spring and fall and should be mowed to a height of 2 to 3 inches. You can expect the grass on the property to be mowed 20-30 times during the growing season of March through October.

Fertilization and weed control is just as important as mowing.
At J.T. & Sons Lawn Care, we follow a pretty strict regimen for fertilizing your property and controlling those pesky weeds. Fertilizer should be applied 3 to 4 times per year. A typical schedule in the Bloomington-Normal area would include fertilization performed in early April then again in May, September, and November. In April, we add a weed control product to help prevent crabgrass and broadleaf weeds from taking over your lawn. In May, a balanced slow release fertilizer is used. A balanced fertilizer (e.g. 12-12-12) can be used in September but in November a high Nitrogen fertilizer should be applied as this is the most important time for root development in the Midwest. All this detail creates a beautiful lawn that demonstrates to your customers that you take pride in your business.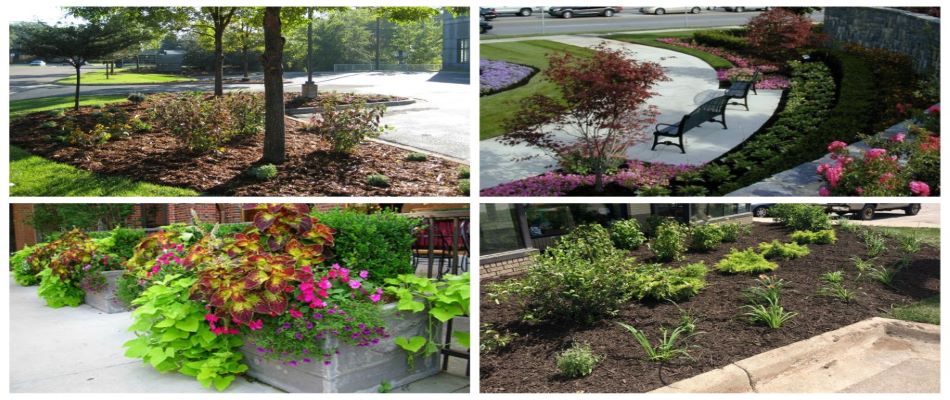 Trimming the landscaping at your business or commercial property.
Trimming and pruning of shrubs and small trees will encourage side branching and denser growth. For flowering shrubs, we make the cut at 45 degrees facing away from the bud and just beyond a healthy bud. We also remove the lowest branches and cut branches that are too close to each other. The best time to trim/prune summer-flowering plants and trees is in late winter or early spring. For spring flowering plants, trimming immediately after their blossoms fade is the best time. Proper trimming/pruning is important to promote plant health/growth and we handle it all for you!
Keep your mulch/rock ground covers fresh.
Mulching is done for that finishing appearance, but also has many other benefits such as weed control. Mulches such as wood chips, pine needles, and other organics will decompose improving soil quality and fertility. Organic mulches should be applied at a depth of fewer than 3 inches as too deep of mulch layers can hold moisture, creating an environment for insects.
Add seasonal color to your business landscaping with annual flower planting services.
Most annuals do well in Illinois given the proper location. It is important to understand that the amount of sunshine in a particular location should factor into the type of the annual flower planted. For example, begonia, impatiens, fuchsia, and coleus enjoy the heavy shade. Annual flowers such as vinca, zinnia, dusty miller, petunia-like hot and dry areas. We are familiar and well experienced in choosing the best annuals for your property.
If your business or commercial property is located in the Bloomington-Normal, IL area, or any other nearby areas, give us a call today at (309) 585-3571 for a free estimate and to schedule any of our services.