Expert shrub & minor tree trimming services in the Bloomington-Normal area.
Whether you are in need of a one-time service or ongoing landscaping maintenance, consider the benefits of hiring our professionals to take care of everything yard related for you. Shrub & minor tree trimming services can be added to our regular maintenance packages. Adding these services will allow us to plan the right time and season to trim the specific shrubbery and small trees in your landscaping
Trimming and pruning keeps your landscape looking fresh and beautiful at all times. Relying on a professional like us to do the job relieves you from an additional outdoor chore and leaves the maintenance to the experts. Knowing landscape maintenance is our specialty, so we know exactly when to perform your shrub and minor tree trimming, and how much to take off to ensure it continues to thrive.

Trimming and pruning your landscaping has loads of benefits!
While most homeowners are mainly concerned with curb appeal when it comes to landscaping, there is more than just well-kempt trees and bushes to consider. The vital chore of maintaining your bushes, trees, and shrubs is beneficial on a number of levels:
Increases fruit and bloom production on the plant.
Plant life is exposed evenly on all sides to sunlight.
Keeping your plants trimmed and healthy reduces the risk of insect infestation.
It reduces the risk of disease to the plant.
You control the size and growth of the tree or shrub.
Our team is made up of experienced landscapers who know how to properly trim your landscaping. We start by removing any dead, damaged, or diseased limbs on the plant. Ignoring proper landscaping care for your shrubs and trees can result in diseases forming and attracting uninvited insects.
Consistent maintenance produces top-notch landscaping.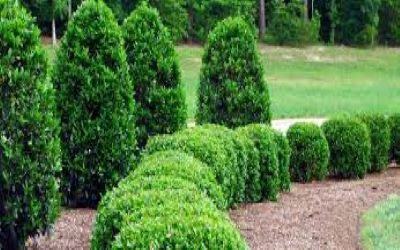 From our experience, consistency is key to maintaining a beautiful landscape, and shrub & tree trimming is no different. The more your trees, shrubs, and bushes are properly trimmed and pruned, the thicker and healthier they will grow back.
If you are in Bloomington, Normal, Lake Bloomington, or other nearby areas, give us a call at (309) 585-3571 for your landscape trimming and prunning estimate!